"Jazz carries a universal message that has the power to strengthen dialogue, our mutual understanding and our mutual respect. As the world is affected by multiple crises and conflicts, this international day highlights how music and culture can contribute to peace, "said Audrey Azoulay, UNESCO Director General.
"In the midst of conflicts and divisions in many parts of the world, I hope that through the universal language of jazz, our celebration this year will inspire people of all nations to heal, hope and work together to promote peace," he said. Herbie Hancock, president of the Jazz Institute, who co-chairs the Day with the head of UNESCO.
The program will include performances by some of the world's most established jazz artists. One such artist is Alune Wade, Senegalese virtuoso singer and bassist.
Born in Dakar, Senegal, he was immersed in music from early childhood. At the age of six, his father, who directs the symphony orchestra of the Senegalese army, makes him give solfeggio lessons at home. He learns bass, piano and guitar. Considered as true pillar of jazz, he promotes an irrepressible open-mindedness through his various projects.
@Alune Wade
Alune Wade, Senegalese singer and bassist
With a universal approach to music, he explained to UN News because he is convinced of the advantages of meeting and sharing.
Alune Wade: I think that music, especially jazz, is one of the things that was created by man. It is, during this century or even since the 19th century, one of the most positive things. Because it is something we share, without tension. It's something, whether you're from Los Angeles or Dakar, or Madagascar, Paris, Japan. Everywhere we go there is an event called Jazz Festival. It exists only in jazz. As I say too, jazz is like a tree: the roots come from Africa, the tree grew in the United States, but the leaves come from all over the world. It is this image that I have of jazz. It's something we share, even if we don't speak the same language with our neighbor. It is something that we are able to share with love, without competition and with joy of heart. This is what really made me want to go to this music that invites you to listen and that opens its doors, that opens your heart. Alas, that's not the case with many things these days.
UN News: You started very young in the music business. What were your beginnings?
Alune Wade: My beginnings were quite natural as I grew up in the music business. My father was a musician, my uncles made music. Suddenly, there was music all over the house. I couldn't help it. My only choice was the music. The music came to me. I didn't go to her.
UN news: did your mother agree?
Alune Wade: My mother comes from a generation of the 60s and 70s in which African musicians, especially Senegalese, were viewed very badly. Because, like in the United States with jazz in the 1950s and 1940s, there were quite a few junkies. It was more alcohol, cigarettes in Senegal. So it was her way of protecting her son, her son. She didn't want me to make music. You might have preferred me to be a doctor or a lawyer.
UN News: But were you able to convince her?
Alune Wade: Yes, finally. Then she saw that there was nothing to be done. However, she tried to cut the strings here and there, but then she was still proud to have a son who could do what she wanted to do, in this case music and above all to do well. This is the most important thing in all of this: you choose your job, what you want to do in life and you do it well.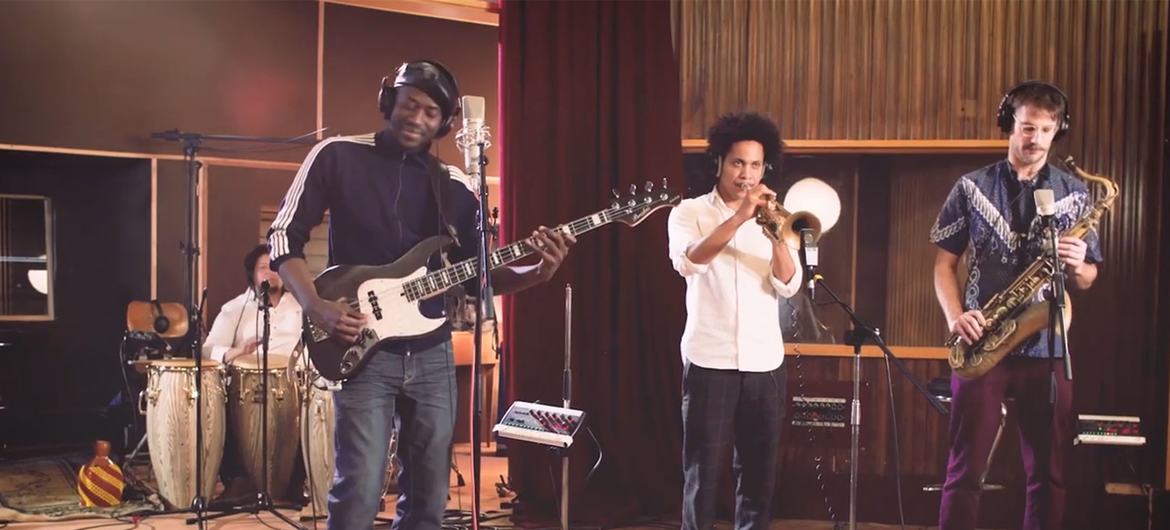 @Alune Wade Officer
Alune Wade, Senegalese singer and bassist, performed at the United Nations in New York, on the occasion of the International Jazz Day, celebrated every year on April 30
UN News: And what exactly got you started?
Alune Wade: I started very young. So I don't even know what really got me started, because it's been years of unconsciousness or years of unconsciousness. For me, it's the love of music and also to have music around me. I was surrounded by sounds, I was surrounded by music, all kinds of music, whether it was classical music with my father, whether it was jazz with my uncles or even reggae and pop music, American pop, French pop. Suddenly, it was the music that came to mind. I did it naturally. And of course also the fact of having in Senegal, in Africa, many African artists, great, very good singers, especially in Senegal. Someone like Youssou N'Dour, Touré Kunda and in Mali with Salif Keïta. Also see these people succeed in music. Above all, their professionalism also pushed me a lot to choose this profession.
UN News: And what are your influences and your jazz style?
Alune Wade: It's very broad, I'd say, I listen to boogie a new soul, I listen to everything. I listened to Coleman as I listened to Bill Evans. I listen to everyone. I listened to Miles (Davis) a lot and it was in his music that I discovered Marcus Miller and was struck by his bass sound. I picked his style, but I didn't know who this bass guy was. So, I have a vision or a love for music or jazz, which is quite eclectic.
UN News: And now, are these influences reflected in your music?
Alune Wade: Actually. In my music, when I compose, I think of Miles Davis, I think of Youssou N'Dour, I think of the Weather Report, I think of Salif Keïta. Above all, I had the opportunity to meet them along my way and suddenly that's what made me what I have become today, this blend that is in me. That is to say, there is the reflection of jazz, there is world music, Malian and Senegalese music. It's all kinds of music, it's really concentrated, but well put together, well thought out and well thought out.
United Nations News: You will participate in this International Jazz Day, April 30th. This year's theme is world peace and unity. Do you think we can achieve world unity through music and jazz?
Alune Wade: Yes, because I think it is still something quite wise because music is this thing that is quite neutral. I think that all the problems these days, to be able to solve them, you have to be a neutral person. There should be no bias. And in music there are no prejudices. It is something we share. When you are Syrian, when you are South African, Israeli, Russian, Ukrainian, French, we share. For example on my stage, when I play in my group, there is an Argentine, there is a Reunionese, there is a Cuban, there is an American, there is all and we all have the same love, which is music . I think a lot of things can be solved through music. In any case, it is my dream, it is my dream to unite these peoples and solve, in my own way, many things thanks to music.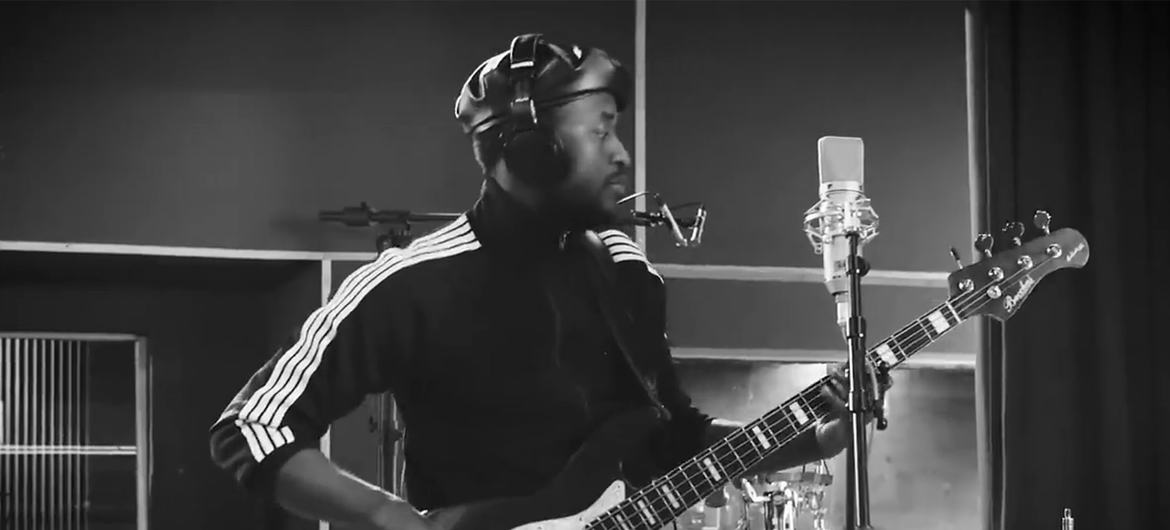 @Alune Wade Officer
Alune Wade, Senegalese singer and bassist, performed at the United Nations in New York, on the occasion of the International Jazz Day, celebrated every year on April 30
UN news: we have seen during Covid-19 and even now, with the crisis in Ukraine, people playing in the streets. Can music be a way to unite?
Alune Wade: Actually. As we can see, they are brother countries, they are brothers, the Ukrainian and the Russian. They can get on stage, play together. But I know this is going to end like this. A Ukrainian artist, a Russian artist, on stage together they will play and create something magnificent, together. This is the goal and this is what makes the magic of music, of art. It is the fact of mixing, of being around a single goal which is music, of creating something together. I think it's time to bring this aspect to the fore, which is to unify these waves of culture, these musicians, these artists, to create something. I think they are the ones who will create, who will solve this situation.
UN Information: Jazz at its creation was really about what people experienced day to day through music. It is always like this? Is it a way to express what is happening in the world?
Alune Wade: Yes, because, in fact, it has been the foundation of jazz from the very beginning. We all know who created jazz and where jazz comes from: the slaves who are gone. They expressed what they experienced day by day. It was the diary of their day in the cotton fields, with the blues, then it became jazz. It is bringing out what you have in your gut, taking out what you have in your heart and telling it.
That's why I often say that there is no better musician or better jazzman. Everyone, let's take away what we eat, take away what we hear, take away what we have in our hearts. And suddenly, when we play jazz today, when we have an instrument and we practice it today, we find things that we didn't have 2 days ago. Because we have changed, we have gained experience and experience. So it's never the same with jazz, it's like that, it's spontaneous, it's natural.
United Nations News: Do you have a message on this Jazz Day?
Alune Wade: For me, the thing we really need these days is this wisdom to be able to listen to each other, to be able to understand problems. What are the causes of the problems and how to find a solution, through music, through jazz. We still had two very difficult years, we didn't know where to go. However, we managed to find solutions because, as they say, when one door closes, turn around, there is certainly another door that has just opened. This is how today we managed to create this magic of being able to do Internet interviews with Zoom and many others. I would say that it is thanks, and also thanks to this pandemic, that we now have this structure to do it. And I think I am sure and certain that we will find still other ways to communicate, to get along and to love each other after these crises. But you just have to want it. Thanks to music, thanks to jazz, we will continue to mix to create positive things for our world.