What does a new bride want? Taking care of her husband and her new home? Start a family as soon as possible or wait a few years, depending on their job, their financial situation? Do you have the support, the blessing of the in-laws? Perhaps. Here is the testimony of Priyanka, recently married.
One thing is certain: a new bride has a head full of plans. It all depends, of course, on who and in which family she got married. However, there is no guarantee that her life will be in pink. Priyanka, 23, married last year, can testify. However, despite the difficulties she encounters, she fights. Because if she loves her husband, she also feels love and respect for her stepfather, 53, and her mother, who is 84. Unfortunately, her stepfather, Sooryadeo Sohun, is seriously ill: he has cancer in his left eye. Also, today Saturday 30 April, he was expected to fly to India for treatment.
Ever since it was decided that her father-in-law will have to return to the Big Peninsula (as this will be her second trip to this country for the same problem), Priyanka has been scrambling to find the money to finance the trip. hospital and accommodation costs. In total, she needs to find nearly Rs 300,000. She behaved like a devoted daughter-in-law. "I consider my stepfather to be my father. What would a daughter do if she knew of the seriousness of her father's condition, especially if it concerned her eye? She would have done anything not to lose her sight. This is what I did. After all, she is still young and can work. But the most important thing is to save the eye, "she says.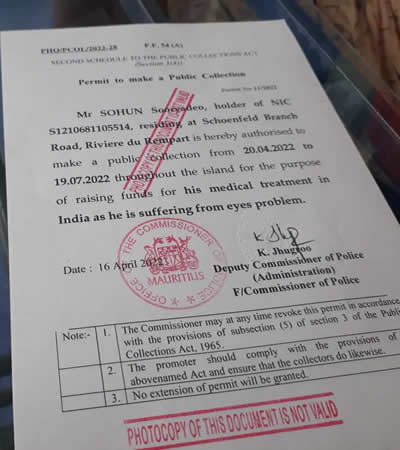 Priyanka got married last August. Her stepfather's eye had been hit since the beginning of last year. "Indeed, it is a renaissance of the disease. She had had an eye problem five years earlier, in 2016. The Ministry of Health subsidized the trip to India and the cost of treatment. Having been a successful operation, she thought she was cured. Unfortunately, five years later, the tumor returned, "she explains.
The young woman is also attached to her in-laws because there is herself, her husband, her father-in-law and her mother in the house. Her stepfather has separated from her wife. "I really like my husband's grandmother. Although she is over 80, she is a very enterprising woman. She takes care of her business and still cooks. This is to tell you that she is very active, unless she is sick, "Priyanka says.
It must be said that, resourceful as it was, the family was about to achieve its goal. Last time it was a friend of Sooryadeo who accompanied him to India. This time, it will be his son Lovesh, 27, Priyanka's husband, who will be traveling.
The in-laws especially
Next August, Priyanka will celebrate her first wedding anniversary. Certainly she and her husband have plans in mind. How to start a family? "Not at the moment," she replies. Our priority right now is taking care of my stepfather, we'll see later. After all, do you know that in addition to Lovesh's father's illness, we also had problems? First, while Lovesh drove me to work (he worked in a hardware store for nearly six years) in his car, we were involved in an accident. Another car hit ours. So far I have back pain. Our car was badly damaged. Some time later, while Lovesh was on her way home, she suffered another car accident and had to spend several weeks in recovery (she works in a semi-parastatal body). "
Priyanka, who is of Queen Victoria, Flacq, was in love with Lovesh for ten years before marrying him. Each changes over time, for better or for worse. But we bet that for the moment Lovesh can consider himself lucky to have found in Priyanka a woman who loves her family, as she loves her family (she has her father, her mother and an older sister who is married with two children) .
Anyone who wishes to donate to the Sohun family can do so as follows:
JUICE ACCOUNT: 5890 5344
FIRST NAME : Priyanka SOHUN
BANK ACCOUNT : 000447228536 (MCB)