---
This text is part of our "Vaccination Hesitants" project.
Read the first text here.
---
Mercier's former CPE educator was, when we spoke to her last December, doubly vaccinated against COVID. "I did it through gritted teeth, under social pressure. I was not in favor, but I changed my tone to have access to a normal life again, to continue living in this crazy world. "
So be wary of the vaccine, but not of health measures. "I was Mrs. Purell before Covid. I've worked with children, so I don't need to be told I need to wash my hands. I am a responsible woman who does not want to get sick, nor give the disease. "
Chantal is therefore not even one of those who doubts Covid. "Of course I believe she exists, I lost a cousin and a 61 year old boyfriend. "She even specifies that her boyfriend" was not vaccinated "but she continues immediately:" it is in the vaccine that I do not believe ", for" my experience with vaccines ", and because" I have a sufficiently strong system; I said to myself, when we get sick, we take care of ourselves ".
Hesitation is natural
In addition to the distrust of the authorities that the hesitant vaccinators told us about in the previous text, the fear of vaccines is an additional element to be taken into consideration.
Fear of vaccines is nothing new, confirms health historian and University of Montreal professor Laurence Monnais. This goes back to the beginnings of vaccination: "Hesitation is natural and has always existed."
In 1885, for example, Quebec was the scene of riots following the mandatory vaccination decree against the smallpox epidemic.
And since the 1950s, the science and technology surrounding vaccination has progressed so rapidly that the public has not been able to fully appropriate it, Pre Monnais pointed out in an analysis of pandemic-time vaccination published last October. .
Hence the importance, according to her, of educating the population about the intentions of vaccination and of establishing a dialogue with those who are hesitant: ways to consider during vaccination campaigns, keeping as far away as possible from moralistic or binding speeches.
"We need to develop tools and other ways of doing things, away from the authoritarian approach of the state to enforce vaccination. There are also problems of accessibility to health and disadvantaged neighborhoods ", recalls the health historian. "So many fears find it difficult to express themselves in front of the health authorities, in addition to the criticisms of the pharmaceutical industry, which must also be listened to. "
Same fears and same questions
The same fears, the same fears and the same questions often emerge in all the interviews carried out for this series of reports. Much more than the Covid-related concern, vaccines cause anxiety.
For example, Chantal, 52, doubly vaccinated against Covid, but attributes the meningitis that nearly killed her daughter to her recent vaccination. Or Caroline, 45, who recounts the long list of side effects she suffered after her 2nd dose of her Moderna: fever, joint pain … "she's the sickest she's ever had in the last five years," she says. . . And she even believes the Pfizer vaccine could be responsible for her father's death in March 2021. "She was 72 and in good shape, despite some high blood pressure and diabetes. Shortly after the vaccine, she had a heart attack. Doctors told me she was "at the end of her life" and that her health was deteriorating, which is a funny coincidence and makes me ask a lot of questions about vaccines.
Many of the hesitant plead that these would not be "classic" vaccines – and novelty often rhymes, in hesitant people's lips, with "rush" and "ignorance of the real effects". Imagine poorly understood technology with dreaded side effects.
"A few days after receiving the vaccine in January 2021, says Mohamed, from Villeray, I contracted the virus and was really sick. I had pulmonary thrombosis, had lung tests and my heart was not well. I did it, but I have to take lifelong medications for my heart. It's the COVID or the vaccine, I don't know "(remember that the vaccine traditionally takes a week or two to be effective). "But as a precaution, I didn't go for my second dose," adds the 62-year-old.
The short- or long-term side effects of vaccines are what worries the hesitant the most. But from the interviews conducted it appears that this fear was well anchored before the pandemic among many of them.
Mohamed agrees: he has always been wary of vaccines, even if his fears are more aimed at the most recent. "Children's vaccines, such as measles, have been tested and my children have been vaccinated. While the Covid vaccine is experimentation. We still don't know anything about the long-term consequences of this vaccine, "says the man who has two unvaccinated adult children.
"I don't immediately trust vaccines and they don't have the same shape as the others," adds Isabelle, 42. "What slows me down is when it's new. He refers to the RNA vaccine, because "we don't have enough experience with this technology. On social networks, people witness all kinds of things and that makes me very insecure.
However, he cites AstraZeneca as an example, even though it is not an RNA vaccine. "It's the last one I would have taken." She would prefer to wait for the Quebec plant-based vaccine Medicago if she chooses to be vaccinated someday.
Fear for his children
Children are perceived both as more vulnerable to vaccines and also, paradoxically, more resistant to disease: it is better to build their immune systems "naturally", think parents who doubt the usefulness of vaccination.
This parental hesitation is also classic, summarizes the medical anthropologist at the National Institute of Public Health of Quebec, Eve Dubé. It arises from their perception of natural health and the ability to control infections with good lifestyle habits. "It is most often found in well-informed, college-educated parents. "
He has long documented this "classic" hesitation. In a study published in 2013, Prof Dubé and her colleagues have already noticed a growth in the perception that vaccination was dangerous and unnecessary.
In another study, in 2015, it focused more specifically on future mothers who were reluctant to vaccinate their children. The factors that made them hesitate were very heterogeneous: from the desire to let nature take its course (therefore diseases) to the alleged danger of vaccines.
These mothers do not necessarily disagree with recommendations from public health authorities. But they perceive natural immunity as superior to that acquired with vaccination. In addition to believing that children's bodies are capable of handling disease, especially when they follow a healthy lifestyle.
As Covid affects children less severely, this raises doubts about the usefulness of vaccinating them.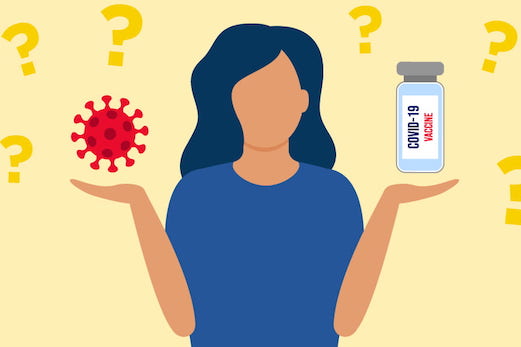 "My 12-year-old daughter is not yet vaccinated, Ouarda noted when we spoke to her in December. Her body is still developing and the children are not very sick with Covid. That's why I don't understand the obligation to do so. "
"All my fears are in relation to her and we will wait as long as possible. My husband and I are vaccinated – I had no choice because my elderly parents live in Algeria and we want to be able to travel quickly – but I still have many questions about this new vaccine, "she adds.
In Ouarda's family, everyone had basic vaccines. "My daughter got all her vaccines, that's more why I prefer to wait, she's the exception."
"The vaccine will be put on the benefit-risk balance even if everyone is aware of the danger of the disease. They will do it on their own, but they will hesitate before getting their children vaccinated, "sums up Eve Dubé.
Support a parent in the decision to get vaccinated
Isabelle, the one who "doesn't trust vaccines right away," is the mother of a seven-month-old baby when we spoke to her in December, and a 14-year-old girl. Her daughter is vaccinated. "At her age, she has the right to decide for herself. I just asked him why, but I didn't pressure him. It is she who chooses for her ".
On the other hand, she still didn't know if she would follow the infant vaccination program for her youngest son. She was already late for vaccines given at 2 and 4 months, including DTPolio, pneumococcal and rotavirus vaccines. "I will do it if it is necessary for the nursery, for some diseases that can recur: whooping cough, measles. We have good genetics and a healthy baby. Is it my maternal instinct to speak? "
"It's very exciting and it's not easy to change a parent's mind," notes pediatrician Arnaud Gagneur, a researcher at Sherbrooke University's School of Medicine. "The traditional method of vaccination information does not work well with the hesitant. What is needed is to talk to them from birth, in motherhood ".
Traditionally, the rate of hesitant parents is around 40% – depending on vaccines, this can vary – of which 15% very hesitant and 5% vaccine-resistant.
Mr. Gagneur developed the PromoVac strategy: an individual information session based on the principles of the motivational interview (Motivational interview in maternity leave for childhood vaccination or EMMIE). "We respond to a real need for information, with kindness and listening – we only answer questions asked by parents and help resolve concerns so families can make informed decisions about vaccinating their children," she says.
The EMMIE program would increase the percentage of parents who wish to vaccinate their child among the most hesitant by 12%, according to a study published in 2019. It will soon be rolled out in all maternity wards in Quebec.
What will the pandemic change? "We realize it's a bigger problem. There is a crisis of confidence in the health authorities and even a social crisis. Let's see what is circulating on social media, all this infodemic has set the pandemic on fire and we are witnessing a hardening of positions. "
Even on the part of healthcare professionals, it is very difficult to deconstruct all these false beliefs. "Many parents prefer a natural lifestyle, consume alternative products and vaccination is not one of them. We must not judge or oppose their values, but remind them that immunization is a natural process that reproduces nature to stimulate the immune system, "says Dr. Gagneur.
Note: Some names have been changed to meet the anonymity demand requested by some people.