We have had a special relationship with Valentin Debise on the French and international circuits for more than 10 years. It was therefore natural that we opened our columns to him once again to share his adventure in the French FSBK Championship, in which the Italian is once again aiming for the title in Supersport 600 and Superbike 1000.
After his four victories at Le Mans on his new Yamahathe one we nicknamed VD53 but which now bears the number # 153 tells us the rest of his extraordinary adventure, in the first sense of the term, this time in Nogaro where the Albigensian once again won the four races in which he participated.
We will meet him again after the next round in Lédenon, and it will be like this for a whole season in which the former Grand Prix driver (but not only), once again aims for the two major titles of the French FSBK Championship.
---
Valentin, always with four victories over the weekend, we imagine this went well, but tell us how you lived it …
Valentino Debise : " Yes, it went quite well. We started off quite slowly as we were one of the few who hadn't driven on the circuit before the event as we had chosen to do the Michelin tests in Alcarras to continue developing the new range of Superbike and Supersport 2022 tires. So we took the chance to try these tires, because they are tires that you cannot have when doing private tests. In Spain we were able to fix the bikes to see how it went with these new tires, but on the other hand they weren't adapted to the Nogaro circuit. So we spent Friday making some changes to our bikes, to be able to attack qualifying with the best tire-bike compromise. So, from Saturday, I started to have good speed, so we didn't change anything for the Sunday morning races. Then we just anticipated the afternoon heat with variations in the settings on the 600 and 1000, which worked well because Sunday afternoon was warmer than anything we had had over the weekend. So even though I went a bit slower with the 600 and 1000 on Sunday afternoon, my competitors went even slower, which allowed me to win both races. "
So two small points, when you say that you are testing Michelin tires for high temperatures, who are the racing tires for?
" Yes, these are competition tires that will be marketed to the general public in the coming months. "
And when you say settings adapted to warm temperatures, without revealing specific things, what are you talking about?
" We will not go into details but we are working on the suspension. In terms of engine brake, on our bikes it is quite adaptable to the available grip, so we don't have to touch it. "
From the outside, Supersport races seem easier to you than in Superbike where you receive particularly tough opposition …
" In fact, it was especially during Race 1 that there was a lot of fighting in Superbike, and this was mainly between me and Mathieu Gines. We had to overtake each other 20 times during the race! Mathieu has the same bike as me and inevitably the first competitor is your teammate or the guy who has the same bike as you. Also, last year he was on Michelin and this year I'm here, so obviously he wants to beat his former colleagues and his own bike. So the fight was fun, especially as Mathieu rides cleanly and respectfully on the track, and now that we know each other well, we have been able to overtake each other over and over again. And even when I tried to sneak in to block him, he knows me so well by heart that he was able to get around what I was doing – it was really cool and we had a lot of fun! "
Honestly, do you think Michelin tires give you an advantage?
" You can see that the guys with the other tire brands have an advantage at the start of the race. It is not a great advantage, it is negligible, but on the other hand, from the middle of the race to the end, we are stronger with the Michelins. Maybe it was Michelin's fault before, for trying too hard for performance, but today I prefer a tire that is a little less efficient but that lasts the whole race. In the 600 the fantastic thing is that I drive with the new tires released this year, the Medium Soft + and Medium Hard +. These are not development tires, so anyone can go and buy these currently winning tires. In 1000 it depends on the circuits: on some I drive with tires currently on the market, and on others with those that will be marketed in a few months. There I think we have a distinct advantage and when the temperatures are a little warmer, the advantage will increase. "
One of the things that changed between Le Mans and Nogaro was that you didn't have to race from one bike to another …
" In fact, this had also prevented me from getting on the podium in the 600 at Le Mans. I don't know if that's why, but the fact remains that there is a race between Supersport and Superbike, which also has the advantage of highlighting the youngsters. On the other hand, it reduces my midday break from three hours to an hour and a half. "
That's enough, right? Unless you plan to register in OGP as well?
" (laughs) No. "
We announced a lot of public that they went to the races, perhaps also thanks to the parade that took place in the city, and which in my opinion was a great idea …
" In fact, there weren't many people on Friday, a little on Saturday and a lot of Sunday. I think the circuit can accommodate more people, but the places where you could see a large section of the circuit were full. It was well organized and the pit lane tours on Saturday for lunch and Sunday for lunch were a great success. The parade was a great idea but I wasn't even aware of it so I don't know who knew. Perhaps communication should also focus on this type of event, for example so that there are few more people at the time of the show … "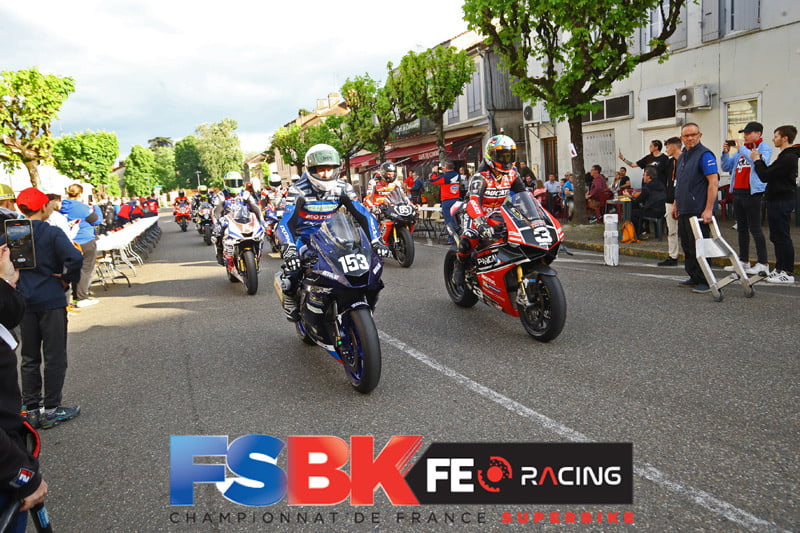 The next round will take place in Lédenon in three weeks. How do you expect it, with ever closer competition?
" Yes, surely the competition is getting closer. In 600 it was going really fast. The track record in the French championship was 29.6, I drove in 29.1, Grégorio in 29.08, Arbel in 29.3, Gimbert in 29.4 by heart … "
So how do you explain that the records have fallen in Supersport and not in Superbike?
" I do not know. I honestly don't know. It probably depends on the track conditions and the tires available during the year. In the 600, whether Michelin or Pirelli, the tires worked very well with this weekend's temperatures and track grip. The Michelins still had this performance at the end of the race which allowed me to set excellent times. But it's true that in the 1000 I had less of this feeling of tire performance as we might have had two years ago, whereas the 600s were not going very fast two years ago. But I don't know how to explain it. "
I return to my question about Lédenon …
" We still have room for improvement because we started the program late. We still have some small problems that we can solve on the bikes. I know we will go on, but the others will go too and some have already gone to Lédenon before Nogaro. Anyway, almost everyone will race there, but I don't know about us because I have tests with Michelin and I also have to go to the French Grand Prix. So I have to ask myself to think about whether or not we will train there, especially since it is always a matter of budget as well. "
Speaking of which, that you had new partners, but also that there have been changes in some of your partners …
" Yes, because there were partners who supported me only for the first race and not for the whole championship. There I found partners, including Speedway and the Yamaha Best of bike shop, who follow me until the end of the season. So that's great for me because of course I prefer it to work like this. At the same time I was able to find a partnership with Beta tools, and a team I had already raced for in Endurance, R2CL, supports me until the end of the year, but there is still room on the fairings (laughs). "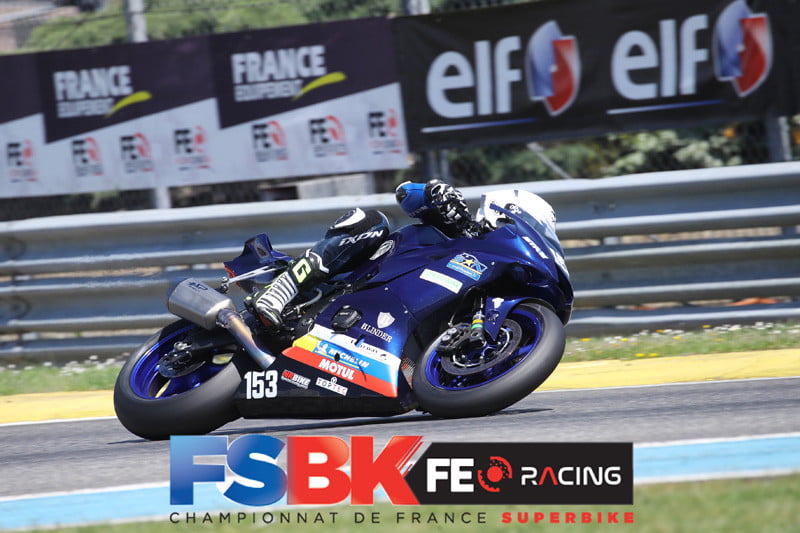 Thanks Valentin and see you at the Lédenon debriefing!