For a decade, Marc-Henri Wajnberg walked the streets of the sprawling capital of the Democratic Republic of the Congo to meet his 35,000 street children. With I Am Chance, a generous and bubbly documentary, he examines the fate of a gang of girls.
Ten years ago, the Belgian director flew to Kinshasa to meet a group of musicians who couldn't get the necessary visas to come and play in Europe. Marc-Henri Wajnberg he thinks he has his subject. She then discovers a "world city" that lives at a hundred miles per hour to the rhythm of the radio and the horn and where thousands of street children run in all directions, abandoned, after having recreated their micro-society. Shocked by the fate of these shégués (the name given to children accused of witchcraft and rejected by their families) who, for the most part, are the same age as his own children, he enlists a small team to make a musical and effervescent film, Kinshasa Kids (2013), a sort of cheerful escape but not too populated by these lively and unexpected figures. The film circulates at festivals and in schools. In 2020 the director decided to explore the theme in another format, with a more didactic purpose. Realizes a virtual reality movie, Kinshasa now, which features a group of street children. During these filming, she meets Chancelvie. The girl is not 15 years old.
Their daily life is made up of fights, prostitution, misery, but also sometimes joy and a lot of solidarity.
No future, only present
From his first film, Marc-Henri Wajnberg has remained contact with children he films, accompanies them and encourages them to go to school, finds them a place in a house, supports them to help them get out of the street. Chancellor, she resists. For her, the road is freedom. "A fake freedom, but it's his, the director insists. For her, the center is a prison. I had seen a lot of guys on the street, but suddenly I was faced with gangs of girls. When Chancelvie told me she was pregnant with her, I decided to let her and the other girls in her "stable" talk about her, which they are generally denied. "
While he is used to and has experience of dramatic situations experienced by the shéguéshis encounter with the Chancelvie gang is a shock: "I didn't expect to be immersed in such violence. I wanted to share their intimacy. Children are already largely invisible, but for girls it's even worse. They are victims of convergent violence, considered by men and society as objects to be abused. After writing two fictions, I discovered that the documentary form would allow me to be the most honest to try to share part of their daily life, made up of quarrels, prostitution, misery, but also sometimes of joy and a lot of solidarity. . When I tried to talk to them about the future, about school, about another possible life, they always went back to their present. That's where they anchor and I didn't want to water down their reality. "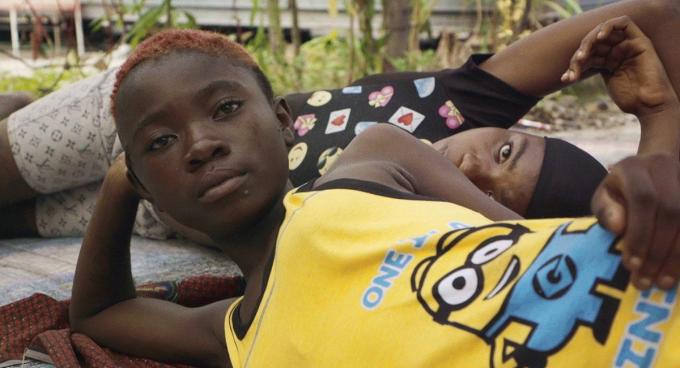 Chancelvie's course, like that of Shekinah, Dodo Where Adorn it is made up of bad encounters, precariousness, abuse and domination. It's incredibly brutal: "At one point Chancelvie gives up, almost by surprise. She explains the transmission, her grown-ups who picked her up, made up and dressed her to send her to the sidewalk. The guys who are supposed to protect her, who mistreat her when she doesn't bring enough money. You tell these dramas almost with detachment. " And Kinshasa turns a blind eye to their distressengulfing in the relentless vortex of a teeming and overflowing city.
An amazing energy
Few people stop for a moment to see them. Nevertheless, the film orchestrates a handful of encounters between girls and a community of artists. Because Kinshasa is also a city that creates, a city that dances. These artists offer both refuge to the girls and counterpoint, like a speech that reminds us from where we are looking. Like this visual artist who recycles waste to make armor. And he reminds us that it is also our waste that we send to Africa.
Before leaving, the director is asked if he has observed any changes in the situation of street children since working in the Democratic Republic of the Congo: "When I discovered Kinshasa, there was a kind of euphoria. Today I feel above all a form of sadness, an even greater precariousness, and I have the impression that there are more and more street children. For the girls there remains a certain form of solidarity, even if they are not extraneous to certain relationships of domination between them, of demonstration of power. And then there is this energy. That's why I love Kinshasa, for this incredible energy, which comes from the heart of its inhabitants, who are the lungs of this city. It is to this vitality that I also wanted to pay homage, to this ability, in adversity, to continue laughing and fighting, telling stories, living and dreaming. "