From what observation did you start launching the Ondefy company?
Today, most cryptocurrency exchanges are run by companies that could be described as nebulous: we don't know where these companies are based and they hold client funds; there is a lack of transparency with users.
Indeed, popular cryptocurrency exchange platforms use the same system as current banks, i.e. the user does not hold these funds, but only a right of access to these funds. While it is for this reason that Bitcoin was introduced in 2008: thousands of people then had full faith in financial institutions and found themselves without money overnight.
On the other hand, decentralized exchanges on the blockchain are still very difficult to access for many people, who, due to lack of technical knowledge, do not know how to access this type of system.
Faced with this double challenge, we wanted to launch an application that simplifies all the steps, so as to allow everyone, whatever their level, to be able to access this decentralized world in a few clicks, through a completely transparent and completely safe ; values ​​embodied at the very origin, cryptocurrency.
How does this application work, which simplifies access to these decentralized environments?
Very concretely, the application allows anyone who wants to invest to use the blockchain directly, but with an interface comparable to that found on exchange platforms. Some technical steps like the one around the Wallet are fully automated, which makes it extremely easy to access this decentralized universe. By using the blockchain directly, you can access thousands of different cryptocurrencies. The app integrates multiple decentralized exchanges to get the best possible trading prices.
In your opinion, will the use of this type of decentralized system tend to spread in the years to come, which would justify this need for simplification among the general public?
It is interesting to draw a parallel with what is currently happening in international news. In Russia, many citizens who have nothing to do with the armed conflict today find themselves severely hit with their bank on the verge of bankruptcy blocking access to their money.
In this case, having an alternative without intermediaries that works only on the code may prove necessary to maintain control over all of his assets, and this in complete freedom. Unfortunately, today, the whole system is still very complex, hence our desire to simplify this technology for the general public; a technology that, thanks to its strengths, could really spread in the future.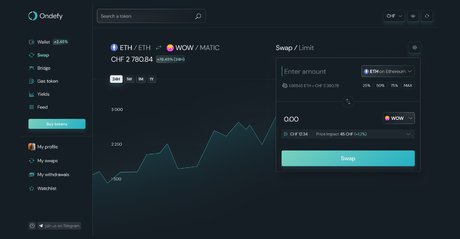 Does Ondefy therefore allow greater freedom on own funds?
Today, blockchain technology and Ondefy in general allow each user to have full control over their funds, much more than for people with a traditional bank account who do not have full control over their money.
Therefore, Ondefy allows access to this sovereignty over these personal funds, removing the complexity of blockchain technology, which today brings real added value in financial exchanges.
What will be the news for Ondefy for the next few months?
Having concluded a second fundraiser, we are preparing to launch the platform in a few weeks. Interested parties can already register!