Punk is not dead! – The explosion in sales of NFT Cryptopunk yesterday was due to Tiffany's announcement.
A luxury and punk brand team up for NFT
The trading volume of the most famous punks in Web3 is exploding. OpenSea would have seen an increase of over 2000% yesterday after the launch of the pendant collection by Tiffany & Co..
The fact of being able to own a jewel, associated with its NFT, seems to be of great interest to collectors. In fact, the CryptoPunk collection has spawned almost 1230 ETH transaction (over $ 2 million) in few hours.
Even though the market is calmer right now, 7-day trading is still largely positive
In concrete terms, what does this mean? Because such large numbers necessarily give the impression that the whole world is rushing towards NFT whose base price is around 75ET ($ 118,500).
>> Bitcoin fluctuates, that's why we love it too! Embark on the FTX reference platform (commercial link) <
Volumes on the rise, but is it really related to pendants?
In fact, if we look more in detail, the sales are not very many, compared to other collections, and especially to other days.
Let's take a look at the sales on the last 7 days. The total volume is 2409 ETH peaking on August 1st of 5 sales for an amount of 430 ETH (average price of 86 ETH). 14 CryptoPunks were traded today.
Sure enough, there was a spike after the Tiffany announcement. The 7 day leveled average price is 56 ETH.
But let's zoom out and look at sales over a longer time frame, like 30 days.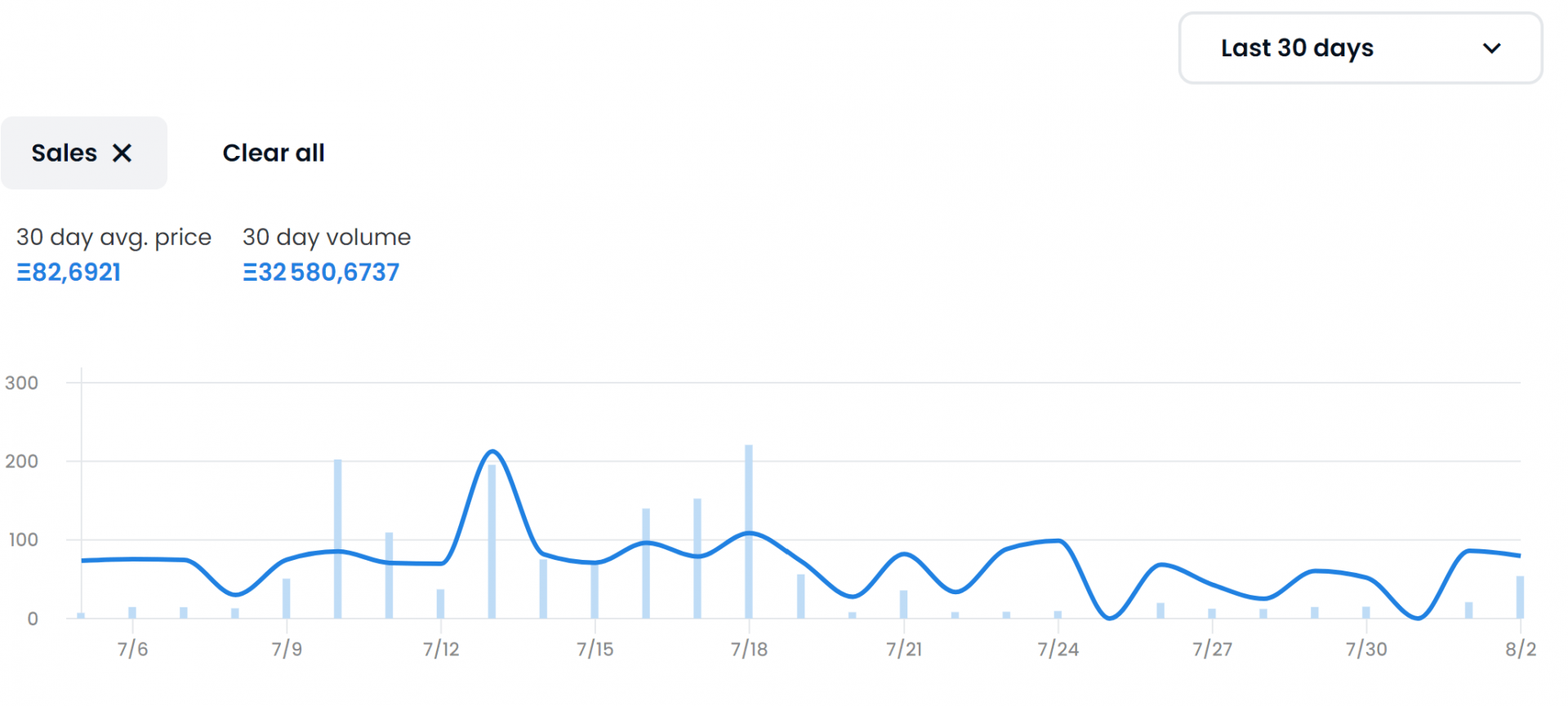 The average price over the past 30 days is much higher, 82 ETHpeaking on July 13, where 19 pixelated punks were traded for an average price of 212 ETH in the day.
Another very big sales spike is also present on July 18th with 42 CryptoPunk traded for an average price of 108 ETH.
The sale of NFT (and pendants) by Tiffany is therefore a great publicity stunt for the collection, but in terms of trade the volumes are nothing exceptional.
But keep in mind that the impact is still there! What to conclude from all this? The announcement effect by a major brand has a significant effect on promoting our ecosystem and NFTs.
But has this little frenzy hit new uninitiated users who would have liked to invest in having a pendant with the image of their NFT? Where are the buyers already collectors who have decided to take the step of buying a Punk to have it as a medallion?
It is also possible that these volumes are only generated by "speculative" buyers who thought Punk prices would go up after the luxury brand's announcement and that there was a large capital gain to be made.
Whatever the explanation, the world of NFT is anticipated for a few hours, and even if the percentage of new fans is certainly low in sales at such prices, this contributes to the democratization of the Web3 !
You have the right to understand nothing of the NFT trend. On the other hand, not taking an interest in Bitcoin is unforgivable! Don't wait any longer to prepare for the future. Register without delay on the FTX reference cryptocurrency exchange platform (commercial link).