You know that I say that China is our future, our forerunner and our caricature.
How come ?
Because the private, capitalist and pseudo-liberal part of China did everything we did. He made the same excesses and mistakes we did. It has detached itself from the Real, it has deviated from the Law of Value – in particular on the monetary, financial and real estate level – and that its System being more "hard" and less "soft", which is pass is more brutal, rougher.
A proof of our future with Chinese characteristics if you like.
Attention, I have never said never said and I do not say that "China is like us", like the West; no, what I say is precise: I aim only for the private part. The private and capitalist part represents only a fraction of the Chinese economy and system. The state sector is predominant in terms of impulse-taking, decision-making, investment and especially banking supervision.
Against Westernization
In China, what is false and misaligned is the private, speculative, liberal sector. It is the opposite of the Soviet system. The state system remains orderly, holds the road and fulfills both its training and stabilization role.
A few years ago, the head of China's central bank advocated greater liberalization and greater openness, in short, greater Westernization. Xi Jinping refused and replaced him, and instead strengthened the Chinese Communist Party's grip.
Xi backtracked on Westernization. He has strengthened his personal power, he has ensured his control of him, he has taken control of many sectors and has put an end to the drift of society, including in education and morals.
China has decided, and is voluntary, to burst the bubble and clean up its speculative economy. This includes real estate, high tech, the star system, morality, etc. Xi reiterated that the benefits of growth should benefit everyone and said he wanted to fight inequality.
Xi obviously thinks like me that there is no truth at all and that all bubbles must have burst so that Chinese society does not drift in a Western way, does not weaken, does not lose its ability to adapt. He wants to disembark the Chinese company. Reconciling China's bullish imagination with reality. Because the imagination is a waste and above all it is unsustainable.
Prepare for crises
According to CCP officials, the current real estate mess is a sign that the Chinese economy is increasingly affected by the chaos and whims of the profit sector.
The CCP believes that the response to China's mini-crisis does not require more "liberal" reforms. On the contrary. He is convinced that China must reverse the expansion of the private sector and introduce more effective plans for public investment, "but this time with the democratic participation of the Chinese people", not through reservoirs of thought or from banks.
Xi is preparing his country both for its future as a dominant world power and for the probable armed conflict that will oppose it to the United States.
And accept that China pays the price as long as there is still time and enough healthy parts to take over.
All of this implies authoritarianism, natural or forced social cohesion and, if necessary, the threat of force.
Today, the housing crisis has reached such a point that millions of Chinese buyers have stopped paying their initial mortgage payments. Increasing boycotts by Chinese buyers on mortgage payments have spread to at least 301 projects in approximately 91 cities, with the value of potentially affected mortgages reaching around 2 trillion yuan ($ 297 billion).
About 70% of household wealth in China is invested in real estate.
Some Chinese banks reacted by seizing the savings deposits of buyers, claiming that they were in fact "mortgage investment products". This has sparked open protests outside some banks, leading the government to surround the banks with tanks.
The mortgage revolt
L'Economic times informed us on July 21 of these events:
"In a grim reminder of the 1989 Tiananmen Square massacre, tanks were seen lined up on the streets of China amid large-scale protests by people demanding the release of their frozen bank savings.
The country's Henan province has witnessed clashes between police and depositors in recent weeks, with depositors saying they have been unable to withdraw their savings from banks since April this year.
New videos have surfaced online in which Chinese People's Liberation Army (PLA) tanks can be seen lined up in the streets to scare the protesters.
Large-scale protests are organized across the province by bank depositors for the release of their frozen funds. "
This popular mortgage riot comes at a time when oil in the economy wheels is getting scarce.
The Chinese economy contracted 2.6% quarter-over-quarter seasonally adjusted in the second quarter. The national unemployment rate stands at 5.9% in May, with the 16-24 year old unemployment rate rising to 18.4%. It is increasingly clear that the government's real GDP growth target of more than 5% will not be met this year.
This target has been reduced in recent years as the double-digit annual expansion of the past decade has faded.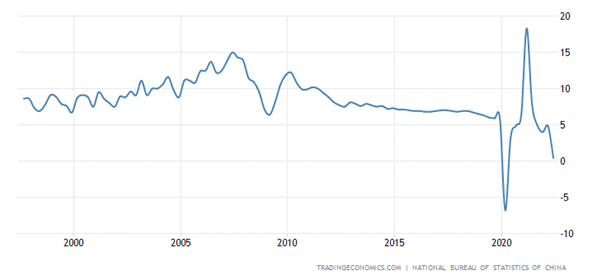 The profits of the capitalist sector have declined. Profits made by Chinese industrial companies rose only 1% year-on-year to $ 34.41 trillion from January to May 2022. This is a slowdown from the 3.5% increase in the last preceding period.
High commodity prices and supply chain disruptions due to Covid-19 restrictions continued to reduce margins and shut down factory operations.
But the profits of public industrial enterprises increased by 9.8%: the state sector continues to play its stabilizing role. This is what happened during the 2008-2009 crisis, which China avoided by increasing public investment to replace a "struggling" capitalist sector.
Xi and the CCP decided it was time to take control and clean up the Chinese system. Taking over is possible as long as the public sector remains predominant, it becomes / will become more uncertain as the private sector increases / increases.
[NDLR : Retrouvez toutes les analyses de Bruno Bertez sur son blog en cliquant ici.]