The latest report from InsightAce Analytic predicts that the global metaverse market focused on the healthcare and healthcare industry will be worth up to $ 71.2 billion by 2030, while it was valued at $ 5.06 billion in 2021.
The main companies that will lead the medical metaverse will be Meta, Microsoft, CableLabs and 8Chili, while other technologies, which will also develop in the field of health, will be augmented reality and virtual reality. The main market will be located in North America.
The report argues that the metaverse will revolutionize medical care, attract more patients, improve diagnostics, improve OR design, streamline treatments and training, and even enable remote patient monitoring. Likewise, the income of the medical industry will increase in passing.
Spain is one of the countries with the highest adoption of cryptocurrencies, as well as of events related to the metaverse. Recently, it was announced that the first metaverse health event will be held in the country on October 27. The project will feature the Metaverse Hospital. This health center intends to apply the metaverse and the latest advancements of Web 3.0 to the delivery of health services.
"First hospital managed with digital resources for hospital management and bio-research through government agencies, symbolized for its design by the health science community. "Real medicine in a virtual space". We intend to provide new ways to deliver excellent health care for the benefit of the general population and patients. In addition to generating alternatives to a more efficient management of health services ".
The latest report from InsightAce Analytic claims that the metaverse is "in its infancy," but it will be a great resource for healthcare professionals and patients to learn and feel more comfortable and confident when they go to the doctor.
"The importance of integrating Metaverse, Virtual Reality, Augmented Reality, Artificial Intelligence, Quantum Computing, Internet of Things, Web 3.0, Cloud and Robotics will revolutionize healthcare. Augmented reality, with its fun headsets and sci-fi accessories, is about to transform the way people interact with healthcare professionals. "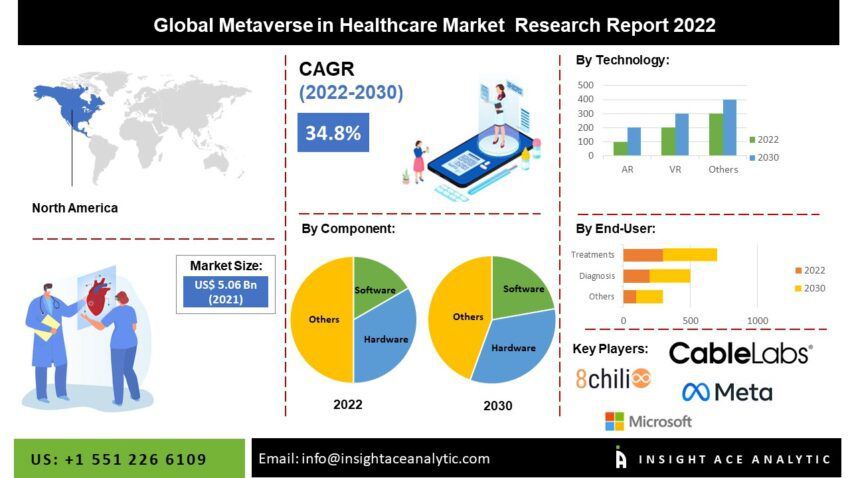 In addition, the main companies pushing the medical industry to accelerate its immersion in the metaverse are: BioflightVR, CAE Inc., Devden Creative Solutions, Dhi Tattva, Eon Reality, Intuitive Surgical, Global Healthcare Academy, 3D Systems, AccuVein, ImmersiveTouch, Intuitive Surgical, Koninklijke Philips NV, Medical Realities, among the most important.
Earlier, BeInCrypto talked about the first "metaverse" surgery, which took place in Lisbon, and supervised by a surgeon from the University of Zaragoza in Spain, who was fitted with "mixed reality" glasses.
Disclaimer
All information on our website is published in good faith and for general information purposes only. Any action taken by the reader based on the information found on our website is entirely at your own risk.