American analysts note that the Islamic State would go through NFT platforms to spread its messages and finance itself. The American authorities are closely monitoring this new strategy of the terrorist organization.
According to information published by The Washington Post, the Islamic State begins investing in NFT platforms (non-fungible tokens). The target? Spreading his messages by eluding any attempt to track down by the authorities, recruiting, but above all financing oneself. Recall that NFTs are digital ownership certificates, often associated with works of art, for speculative purposes.
Appearance of a suspicious NFT
An NFT titled "IS-NEWS # 01", bearing the emblem of the Islamic State, has been spotted on at least two NFT platforms, including Rarible. A digital map was released last month praising Islamic militants and an attack on a Taliban position in Afghanistan. It is the first known NFT created by a terrorism sympathizer, according to former senior US intelligence officials interviewed by US media.
According to Mario Cosby, a former federal intelligence analyst specializing in blockchain, two other NFTs created by the same user on the same day, August 26, exhibit characteristics of the Islamic State. They are not currently being offered for sale, but analysts say terrorist groups could clearly finance their operations through the sale of NFTs.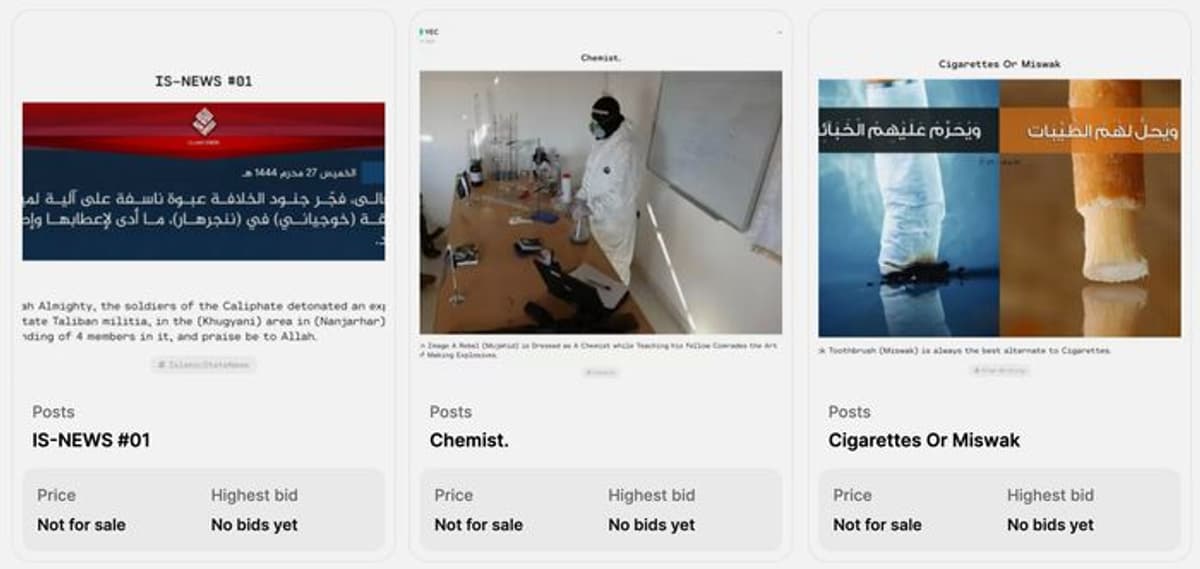 US regulators and national security officials have expressed concern about the potential of terrorists to exploit new technologies and financial markets, including NFTs.
At the moment IS-NEWS # 01 does not appear to have been traded, but its existence on the blockchain makes it nearly impossible for the Department of Justice to remove it from the internet. An NFT, in fact, is stored on a blockchain, a transaction database organized in such a way as not to resort to a central authority. Transactions on NFT markets can be carried out under a pseudonym, which increases the difficulty for the authorities to trace them. "There's really no way to drop this NFT," continues Mario Cosby.
"A matter of time"
"It was only a matter of time," Yaya Fanusie, a former Central Intelligence Agency economics and counter-terrorism analyst, told the Washington Post, predicting a widespread practice by the terrorist organization.
"So far, Western authorities have paralyzed other Islamic State financial channels, including shutting down fundraising and propaganda websites. Social media platforms have also become more responsive to requests from lawmakers to censor messages deemed contrary to their code of conduct. conduct ", analyzes the Washington Post.
Western officials fear that the group's remnants, both online and in the field, could foster a resurgence. The US withdrawal from Afghanistan last year gave the group the opportunity to make a strong comeback by recapturing areas now held by their enemies, the Taliban.