That's it, The Merge is effective, Ethereum (ETH) is now a Proof-of-Stake network. The entire cryptocurrency community was thrilled to wait for this historic event. The market remained stable during the migration, judging by the Ethereum chart. There is less volatility than expected.
Graph Analysis: ETH takes its course
The second largest cryptocurrency by market cap has been in the bullish channel for three months. Cryptocurrency traders found no trading opportunities after the merger. In fact, ETH has (almost) not moved, while most traders have predicted high market volatility. The merger was only followed by a small "pump and dump" on the Ethereum chart.
A few hours after the event, the price of ether remains in a range of $ 1570 to $ 1653. Which leaves no opportunity for those who trade cryptocurrencies. On the other hand, it appears that the bulls did not have enough strength to push the price out of the long red candle of September 13th. However, they were able to get a small 3.4% pump.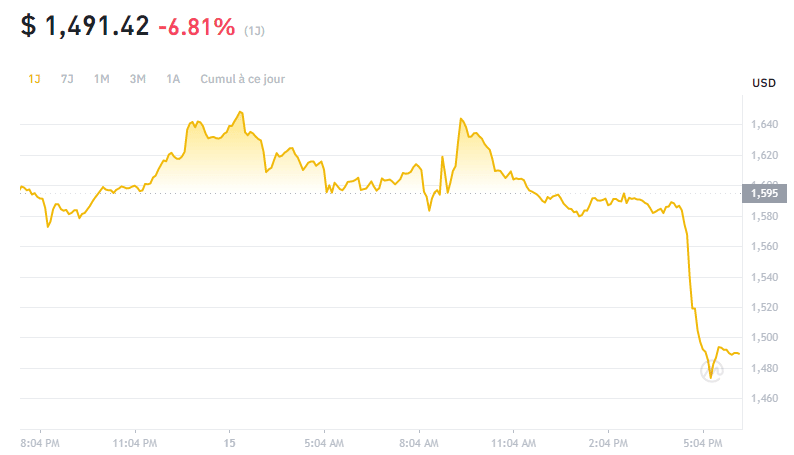 6% decline at the opening of the session in the United States
While the London session didn't really react to The Merge's success, the US session reacted with a crash. In fact, at the opening of the US equity markets, Ethereum (ETH) suffered a decline of 6%.
For a technical analyst, this is probably a logical continuation of the shoulder-head-shoulder model. This figure is easily seen by placing the Ethereum chart on a daily or h4 scale. The top of the "head" is at $ 2030, while both shoulders are at the same level: $ 1780. Hence, this drop appears to be justified according to this chartist figure.
It should also be noted that following this decline, the ether is leaving the bullish channel it has held for three months. Against all odds, this cryptocurrency then made a bearish breakout. But to reach what level? As we saw in our previous analysis, there is an interesting zone between $ 1280 and $ 1355. The level around $ 1280 is a broken resistance zone. Therefore, this level becomes a potential support for testing Ethereum. The $ 1355 level, meanwhile, is the low of the July 26 session. This is a reversal point (swing point) on the chart. This means that there are probably a lot of buy orders around this level.
In my opinion, this drop is nothing more than a way for Ethereum to reach an area where there are enough buy orders. This will allow him to start a bull run for several months.
Get a summary of what's new in the world of cryptocurrencies by signing up for our new service newsletter daily and weekly so as not to miss any of the indispensable Cointribunes!
The Cointribune editorial team joins their voices to express themselves on specific topics of cryptocurrencies, investments, metaverse and NFT, trying to best answer your questions.