Today, brands are heavily investing in the Metaverse to attack its potential and great marketing promise. A trend anticipated some time ago by Maximilian Schiefer, senior executive at Swiss Watchmaker Chronoswiss AG. This pioneer abolished the line between virtual and physical by first adopting Web 2.0 at a time when it was just a geeky fad and companies were wary. Chronoswiss already has a concrete vision of the new playground that is the Metaverse. Forbes asked this pioneer about the future of luxury in the digital age.
You were among the first to adopt social media in your strategy and also anticipated the rise of the Metaverse. Do you think Web 3.0 will soon be mainstream?
Massimiliano Schiefer : The Metaverse is not a vision of the future, in fact it has existed for a while if we refer to projects like "Second Life". As early as 2003, users could embody "virtual characters" in this 3D video game. However, many people have not yet realized its existence and its obvious potential. See how much our life has changed in the digital world with Web 2.0 and how it has changed our relationships. The Metaverse goes one step further and is already changing the way we experience and consume goods. In fact, I believe in timing and being visionary in adopting these new concepts. Being a forerunner gives you credibility on the one hand and the opportunity to learn on the other.
Specifically, how did you become a pioneer in these matters?
When I started working on social media, very few people believed in its potential. In the beginning, from 2012 to 2014, we had to explain why Web 2.0 and Influencer Marketing were the future of advertising when we couldn't make money by supporting this approach. When you are one of the few in the competition to believe in this vision, you learn very early on. During those formative years, we learned how to build and serve communities, create engaging content, and reshape digital marketing. For the Metaverse, I think we're in a similar situation right now. Everyone has heard of it, but very few have a real vision of its future.
In the field of luxury, much of the power of attraction lies in the rarity and quality of the product. How does Chronoswiss guarantee continuity between the virtual and the physical world?
For Chronoswiss, this is especially true. Much of the appeal of an independent Swiss watchmaker lies in the beauty of the craftsmanship. We are really proud of our hand-engraved three-dimensional dials, all made in our workshop in Lucerne. In the Metaverse, while the craftsmanship still exists (even our 3D watches are handmade), it is more of a replica of the real world watch. So, for the very first luxury copies made for Web3, we decided to build a bridge between the digital and physical world.
Massimiliano Schiefer : " The Metaverse does not announce the end of physical luxury products, they will simply have to adapt to a new environment. We have already seen the first steps in the world of watchmaking with NFTs. With Chronoswiss we go even further. "
Is this bridge to the real world a concept for the future?
Although digital life and work are becoming more and more dominant in our existence, I firmly believe that connecting the two environments is essential. After all, we wake up every morning in the real world, where we like to touch and feel things … At the end of September, in the middle of fashion week, we just released our first watch in the Metaverse with the nickname "Sugar Rush" . Decentraland users can purchase a limited edition of digital-only pieces for their Avatar, combined with an NFT, and an even more exclusive collection anchored to real watches made in our manufactory.
To achieve this, we have recreated our Atelier Chronoswiss within the Decentraland platform because it is the only means of distribution for this specific model. I predict that people will enjoy both being pioneers and that they will be happy to acquire a beautiful object to touch, to wear.
Do you think we will one day consume mainly digital luxuries, like fashion with avatars? What would be the implications for this market if we stick to the example of watches?
When I started selling social media advertising, very few people could have imagined that over the next five years the way we create product awareness would change irreversibly. Now, when people are in doubt, I advise them to take a look at their children and their perception of "statutory luxury". For them, a high-end armor or sword in an online game has a very high value, it symbolizes a certain status. When we anticipate this paradigm shift, we necessarily know in which direction we are going. The boundaries of the real and the digital will become increasingly fluid in the future.
However, this does not mean that physical luxuries will disappear, they simply have to adapt to a new environment. We have already seen the first steps in the world of watchmaking with NFTs. With Chronoswiss, we are now going much further.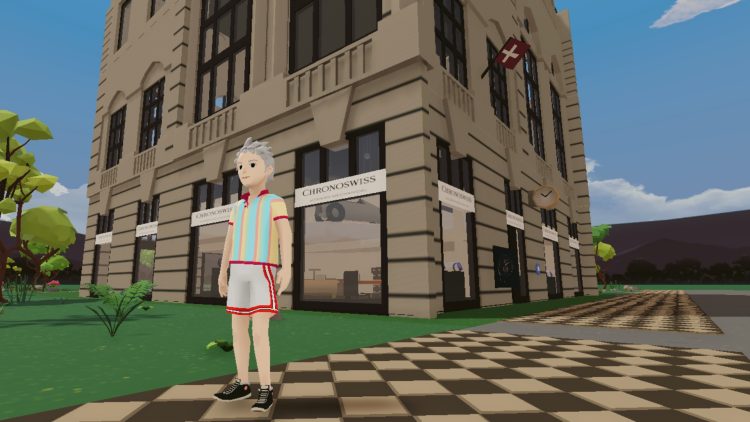 In being innovative with your brand, there is still some risk. How do you handle the "unknown" factor?
It is an opportunity for me to work in an independent family business. In concrete terms, this means that when others are content to talk about risks and hesitate, we can instead choose to go ahead and learn. You won't find treasure in shallow water … But when you start to feel like you're losing your feet, then you've come to the right place to explore new horizons.
For further :
Chronoswiss
<<< Read also: "Franck Le Moal, CIO of LVMH:" The metaverse will reconnect the customer to the history and know-how of our products. "
>>>