US giant JPMorgan has expressed interest in tokenizing US Treasuries. (Photo: 123RF)
LES KEYS DE LA CRYPTO is a section that patiently decodes the world of cryptocurrency and its stock, industrial and media market turmoil. François Remy's mission is to identify promising entrepreneurs, decode technical progress and anticipate the industrial and social impacts of this digital currency.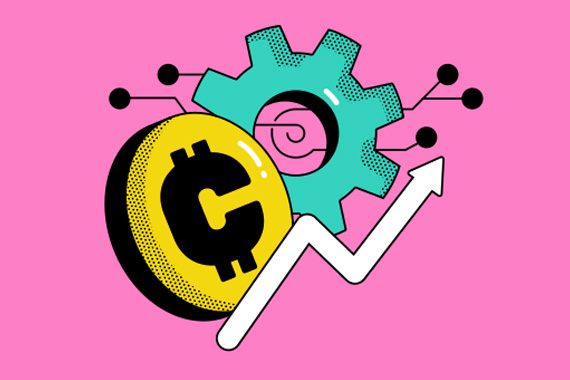 (Illustration: Camille Charbonneau)
The cryptocurrency ecosystem is developing ties to traditional finance (TradFi) which could become just as many drive belts for crashes and new types of shocks.
"Cryptocurrencies do not pose a threat to the stability of the financial system, neither now nor for the next two years." This was concluded by a survey of European economists … in 2017. At the time, the total capitalization of digital assets amounted to about 600 billion US dollars. Since then, the cryptocurrency market has undergone dizzying roller coaster movements, hitting $ 3 trillion in global value in November 2021 (an all-time high) and currently struggling not to drop below $ 900 billion.
This rapid and chaotic growth has led the New York Federal Reserve to consider new challenges to financial stability, particularly by exploring the vulnerabilities of traditional finance (TradFi). At first glance, the recent shocks in the bitcoin market would have had only limited repercussions on the financial planet. But analysts at the central bank of New York speak of "emerging fragility" that could upset the global financial balance.
As cryptocurrencies grow, they mix with traditional financial products and become entangled with traditional structures. Digital currencies, stablecoins and other non-fungible tokens replicate many of TradFi's failures, usually without such extensive regulatory protection, introducing new risks.
Increased Risks and Vulnerabilities 2.0
"Financial vulnerabilities are a set of factors that can amplify financial shocks. Vulnerabilities tend to accumulate over time, but policies can be designed to mitigate them, making the system more resilient and therefore more likely to continue to function effectively in the face of shocks.
Several features of the cryptographic ecosystem present new vulnerabilities for stability. Such as automated execution of operations, which reduces response times for interventions that could prevent destabilization.
The analysts of the New York institute refer in this regard to the work of Hilary J. Allen, an expert in banking law and professor of law at the American University Washington College of Law, who argues that decentralized finance brought by asset technologies creates a new generation of the parallel banking system (shadow banking 2.0).
"Our financial regulatory system has not yet figured out how to manage the risks of the derivatives, securitisations and money market mutual funds that made up shadow banking 1.0, but we are already facing the prospect of shadow banking 2.0 in the form of decentralized finance, or DeFi, "notes Pr Allen.
However, at the same time, the decentralized governance of some platforms can hinder swift action to alleviate tensions or even hinder regulatory safeguards. Automation that exacerbates operational vulnerabilities.
"Public blockchains, cryptocurrencies, stablecoin issuers, DeFi protocols and centralized cryptocurrency exchanges have proven to be interconnected, with no exposure limits. Shock in one area can hit others quickly, "the central bank speakers also point out. In other words, if the links between digital assets and traditional structures currently remain limited, they could expand and strengthen, which would increase the risk of contagion. for the global financial system.
Mainly depending on the interconnections
The tensions arising in the cryptocurrency ecosystem will unbalance overall financial stability depending on the degree of interconnection with the traditional financial sector. There are certainly many ways the bitcoin universe communicates with the classic system. We think of the loyalty and Robinhood of this world, these brokerage firms that integrate access to cryptocurrency markets into their product offerings.
Stock market incumbents have also begun to integrate cryptocurrency-related financial products. Global futures market giant CME offers bitcoin and ethereum futures contracts. Canadian regulators have approved Bitcoin ETFs that also operate on the stock exchange.
Let's not forget the case of banks, these natural opponents of the fintech innovations that came with bitcoin, for which the interest in cryptocurrencies remains a Pulcinella secret. You need to remember that banks have been exposed to cryptocurrencies across multiple channels.
"Banks can hold deposits from companies that offer stablecoins. For example, the assets of the largest US-based stablecoin, USDC, are held by multiple banks. Small banks may be more likely to run into liquidity problems in the event of a stablecoin run, "says the New York Fed.
Several banking brands also hold private investments in cryptocurrency-related companies on their balance sheets. Standard Chartered, BNY Mellon, Citi and UBS have each invested more than $ 250 million in these companies.
Don't rely on those traditional banks and other financial institutions that interact with platforms and protocols to get funding, like Maker who proposed tokenize real-world assets and issue loans using those tokens as collateral. Or the American giant JPMorgan which has expressed interest in the tokenization of US Treasury bills to use them as collateral in DeFi.
In short, the New York Federal Reserve punctuates so many links that could act as a transmission belt to traditional finance of crashes and other shocks from cryptocurrency markets