Jacob & Co's Astronomy Metaverso NFT Venus is the first "digital native" NFT watch to compete for the 2022 Grand Prix d'Horlogerie de Genève in the Jewelery category. Jacob & Co signs, in an unparalleled creative need, a watch that is above all a protected digital asset, which requires a unique digital technique.
Which one came first? Astronomy Metaverse Digital NFT Venus? Or the true and very real Astronomy Metaverse NFT Venus? Like two complex dials of an identical reality, the watch created by Jacob & Co was made simultaneously in two realities, with the same goal … to design a graphic and horological interpretation of the planet Venus in the form of a timepiece. An extension of the Astronomy series, whose primary concept is to represent a miniature version of the solar system, the Astronomy Metaverse NFT Venus pursues this metaphorical vision in all forms of execution.
Digital and physical assets are unique and cannot be copied. This avant-garde concept, rooted in the binary world and the real world, was acclaimed by members of the GPHG Academy who voted this unique timepiece as a finalist for the Oscars of watchmaking.
A creation of jewelry
The Astronomia Metaverso NFT Venus is a new version of the Astronomy series designed by Jacob & Co. Large openings in the center and added lugs adorn the 44mm polished white gold case. Under its massive domed sapphire crystal is housed a vertical movement with three arms … a flying tourbillon, a rotating gemstone with 288 facets depicting a planet and an hour and minute dial, sculpted from a red spinel disc.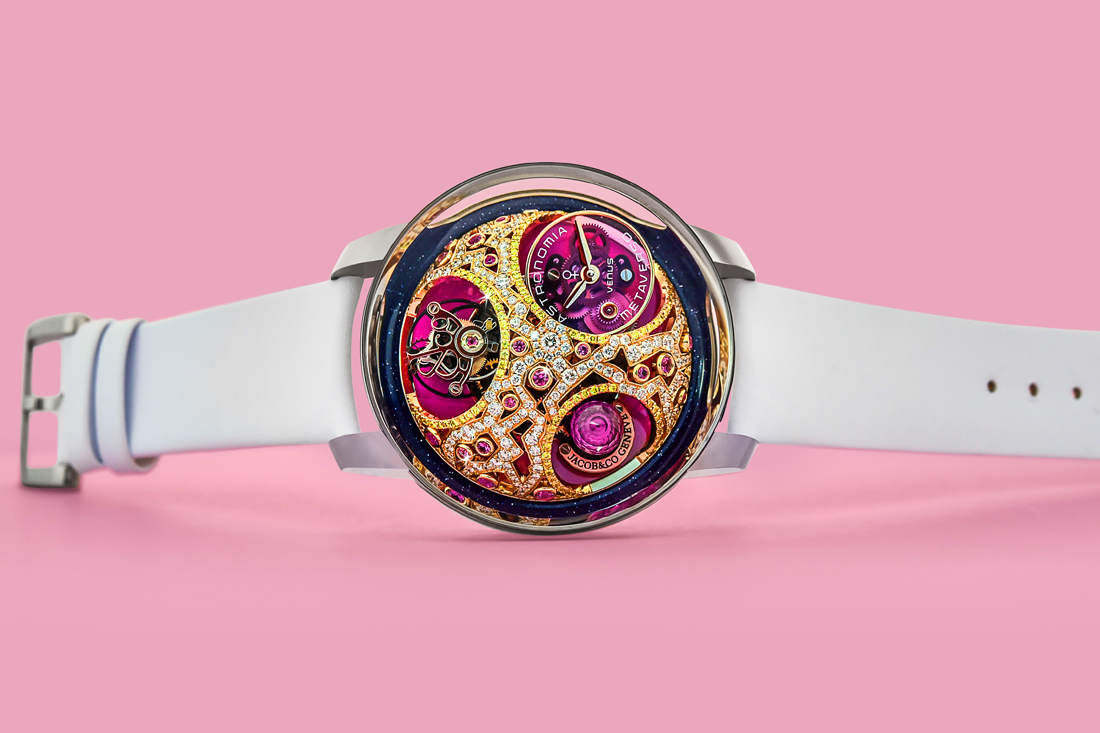 A unique element of the Astronomia Metaverso NFT series is wrapped around these three arms. The dome is a 3D lattice with precious stones used as a canvas to bring the personality of each piece. In the Astronomia Metaverso NFT Venus case, the openwork dome in yellow gold is decorated with white and yellow diamonds and pink sapphires.
An undeniable digital side
The digital aspect of Astronomy Metaverse NFT Venus fills a void: " We are directly contacting a rich NFT, digital and crypto community with this projectsaid Benjamin Arabov, CEO of Jacob & Co. We have a unique connection in this vast community, we speak the same language, we have the same references and we live in the same universe ".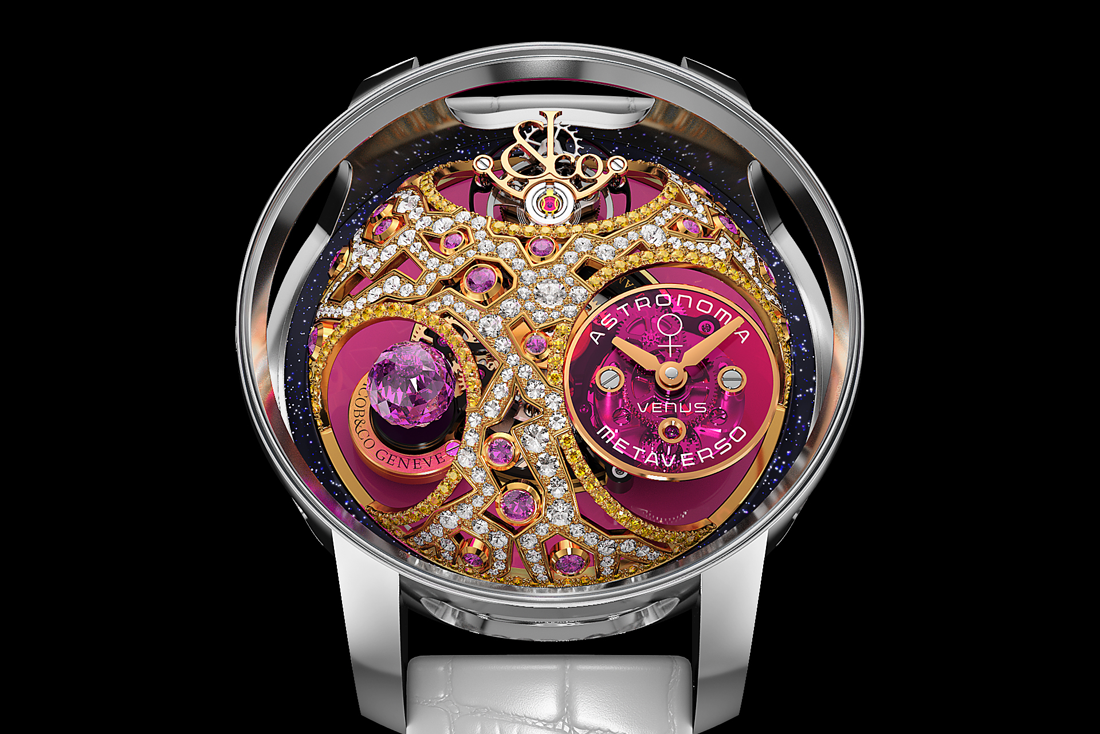 The design of digital assets can be considered trivial, but it must be as precise and demanding as physical design. Shashi Menon, CEO of unxd.com, an online platform dedicated to bridging the gap between luxury and digital, and an integral part of the project, said: The creation of Astronomia Metaverso NFT Venus required a unique digital technology. Our digital designers and Jacob Arabo have spent hundreds of hours working together. The qualitative rendering of precious stones, especially diamonds, is really difficult to obtain digitally ".
A whole experience
In particular, customers wishing to purchase Astronomia Metaverso NFT Venus should do so on www.unxd.com. They will receive an NFT, a secure certificate on the blockchain that proves ownership of the digital version of Astronomia Metaverso NFT Venus.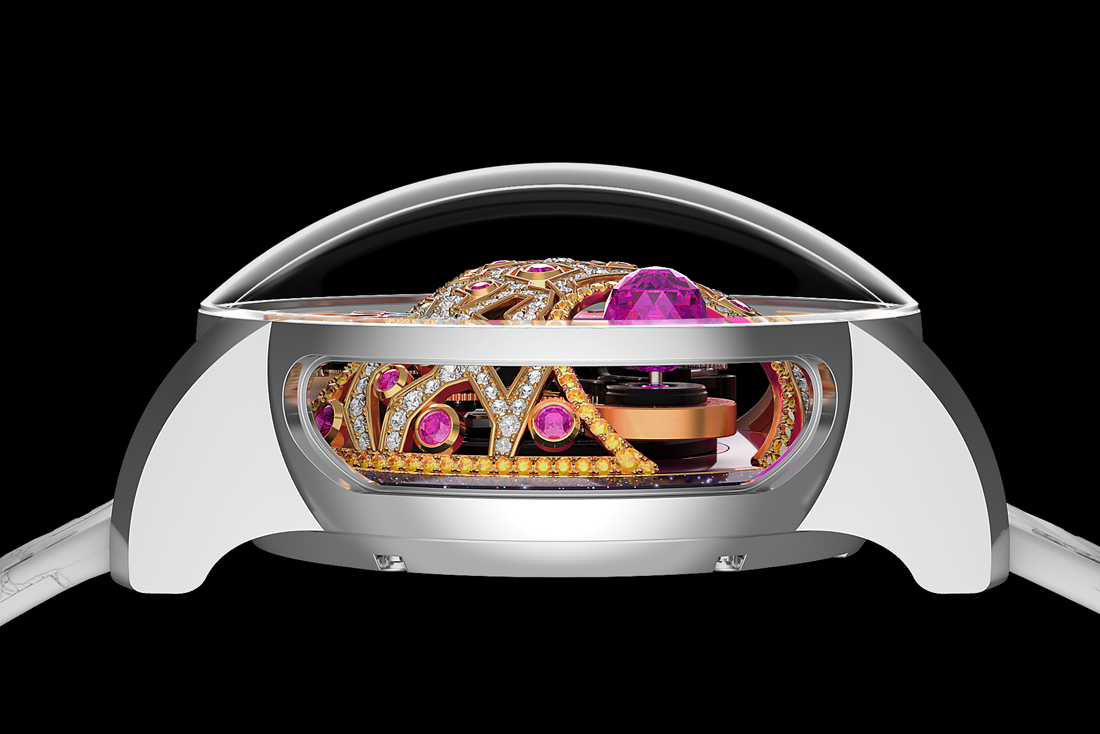 This NFT unlocks a range of exclusive experiences designed by Jacob & Co. and only the NFT holder can access it. These include invitations to a variety of brand-specific events, as well as invitations to meet Jacob Arabo and Ben Arabov in person. The NFT allows its owner to obtain the physical version of the Astronomy Metaverse NFT Venus directly from a Jacob & Co store.
A natural extension
In a watch industry that treats watches primarily as physical commodities, NFTs are all the rage, but still a distinct advantage. Conversely, some brands offer a plethora of digital watches, but mostly in the form of exploratory creations, whose designs can evolve in the metaverse.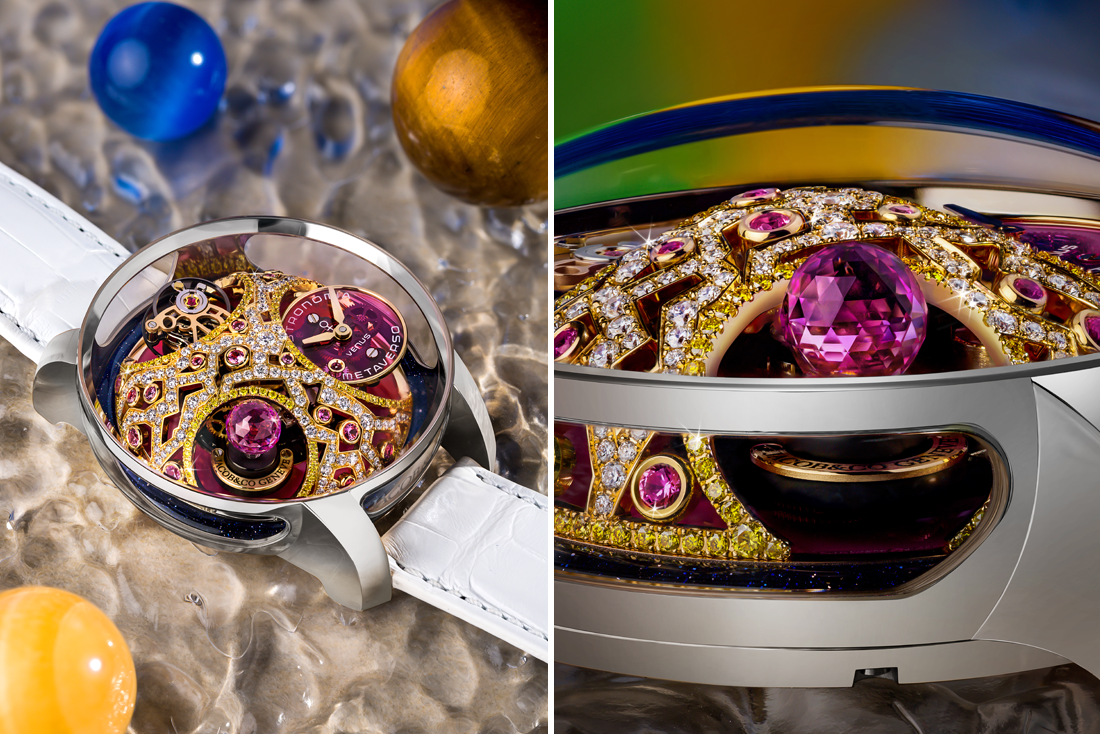 The dual nature of Astronomia Metaverso NFT Venus is completely new as its two versions share the same importance, the same design and the same status. They show that Jacob & Co. is naturally involved in an aspect of culture that is still considered revolutionary, even considered by many to be bizarre. Jacob & Co. CEO Benjamin Arabov is a world entrepreneur technology of the generation of millennialsand this is just everyday life.
At the heart of the offer
In the Jacob & Co collections, the Astronomy Metaverso NFT Venus is not an isolated case, it is part of a complete collection of five physical / digital timepieces, all created as unique timepieces inspired by the five planets closest to the sun. The Astronomy Metaverse NFT solar system consists of three fully digital parts.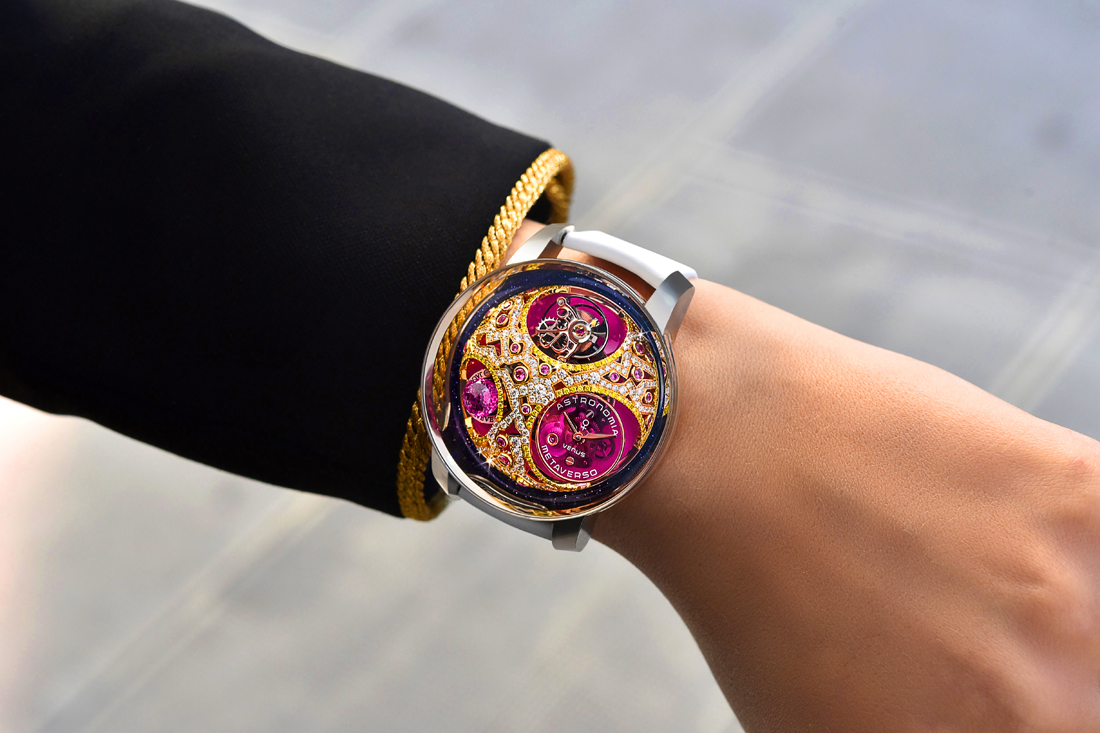 " The Astronomy Metaverso NFT collection is the first chapter of the NFT program launched by Jacob & Co. It is not just an isolated success. We designed it to be an integral part of our brand Benjamin Arabov said.
Data sheet
Astronomy Metaverse NFT Venus
Movement Caliber: Produced exclusively by Jacob & Co. Manual winding JCAM42 / Diameter: 34.55 mm / Components: 296 / Material: Titanium / Power reserve: 48 hours / Frequency: 28,800 vph (4 Hz) / Jewels: 42 / Functions: Hours and minutes • Flying tourbillon cage that rotates in 60 seconds • Pink Jacob-cut gemstone that rotates on itself in 60 seconds Box Diameter: 44 mm / Height: 21 mm / Material: 18-karat white gold and sapphire crystal side opening / Case back: 18-karat white gold / Arcs: winding and time setting with two 18-karat white gold arcs on the caseback / Glass: Domed sapphire with double anti-reflective treatment / Water resistance: 30 meters (3atm) Dial and hands Dome: 18K yellow gold with brilliant-cut white diamonds (~ 1.06 ct.), Pink sapphires (~ 0.45 ct.) And Fancy Vivid Yellow diamonds (~ 0.71 ct.) / Lower dial: Spinel with the symbol of the planet Venus / Hands: Rose gold hands designed by Jacob & Co bracelet and clasp Strap: white alligator / Clasp: pin buckle in 18K white gold Warranty 2 years international Limited edition Single piece
André Tirlet